After last week's Loki finale, we're experiencing a bit of a "show-hole" and we bet some of you are too. We've found that the best solution is to just throw yourself further into the fandom, and we've got the means to help you along! Here are a few of our favorite comic storylines featuring everyone's favorite miscreant.
Loki Mistress of Mischief – Loki returns in full female form after the events of Ragnarok when the Asgardian life cycle begins anew. What havoc-wreaking plans will this version of Loki hatch? Read and find out!
J Michael Straczynski (Author), Jason Aaron (Author), Peter Milligan (Author), Olivier Coipel (Artist), Russell Dauterman (Artist), Tonci Zonjic (Artist)
Thor and Loki: Blood Brothers – Loki seizes the throne of Asgard, but struggles with ruling his newly acquired realm. This story in particular examines Loki's relationship with the rest of the family, especially his brother Thor.
Rob Rodi (Author), Esad Ribic (Illustrator)
Journey into Mystery: Fear Itself – If you want to know more about Kid Loki then this is the story for you! Newly reincarnated as a much younger, angstier (is that possible?) version of Loki, they join forces with Thor to navigate the wake of original Loki's awful actions.
Dougie Braithwaite (Illustrator), Kieron Gillen (author)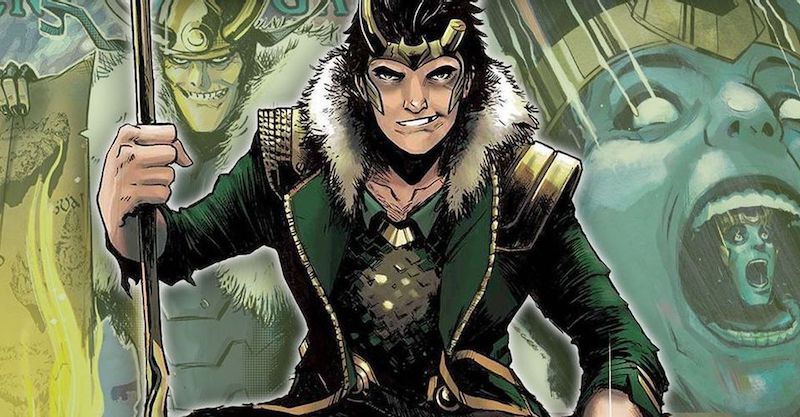 Loki: Agent of Asgard – Full of Loki at their very best, you'll see lying, cheating, stealing and bluffing in spades as Loki serves as Asgard's one man secret service. Every mission presents new ways for Loki to cause trouble, but in this book there may be one plot twist too many for even Loki to handle!
Lee Garbett (Illustrator), Al Ewing (Author)
Vote Loki – Loki runs for President! Full of political satire and a look at the dangers of demagogues, this miniseries is a great stand alone story that has a surprising amount of substance.
Langdon Foss (Illustrator), Jack Kirby (Illustrator), Walt Simonson (Illustrator), Christopher Hastings (Contributor), Stan Lee (Contributor), Ralph Macchio (Contributor)
Marvel-verse: Loki – This is a collected trade paperback of some of Loki's greatest short stories. In this book you'll find more Kid Loki, a look at the founding of the Avengers through the eyes of the god of lies, and more!
Collects Amazing Spider-Man (1999) #503-504, Journey Into Mystery (2011) #626.1; material from Avengers (1963) #300, Silver Surfer (1968) #4.
It's a great time to catch up on all your Marvel favorites, and we've got plenty of stories featuring not only the god of mischief, but Thor, Black Widow, Doctor Strange, Vision, Wanda and more! Stop on by and see what's right for you this week!