There has been a ton of buzz about the new Indomitus box that GW is releasing to launch their new 9th edition – it sold out on their webstore in less than an hour! So, what's this all about? Here's how Games Workshop has described their latest hit product:
If you're looking to plunge headfirst into the new edition of Warhammer 40,000, look no further than this glorious boxed set. Warhammer 40,000: Indomitus comes complete with two powerful armies, pitting the mighty Space Marines against the immortal machine race known as the Necrons for control of the Pariah Nexus. The set also includes an Indomitus-exclusive version of the Warhammer 40,000 Core Book, which delves into the game's grimdark, futuristic setting and provides a full set of rules for playing thrilling games with your Citadel miniatures.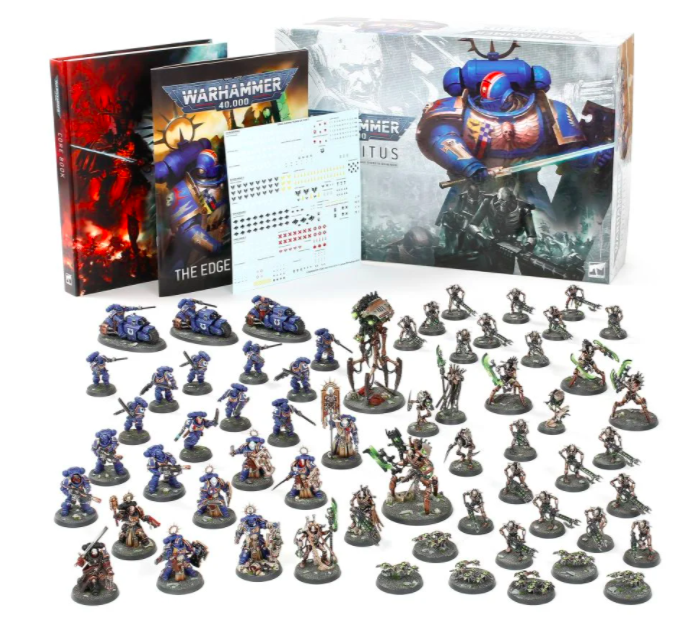 Indomitus Box Breakdown:
-1x 368-page Warhammer 40,000 Core Book (hardback)
-1x 24-page campaign booklet – The Edge of Silence
-24x Space Marines
-37x Necrons
-1x 20-page Assembly Guide
-1x Space Marines Transfer Sheet
Check out the GW website for a full description of the models!
Luckily, if you missed out, FLGS like ours have a later retail date than the GW webstore (ours is Saturday July 25th). However, the Indomitus box is very limited in stock, and once it's gone, it's gone. Stores have been capped on the amount we can order, and this box will not be restocked. Make sure to reserve your copy of Indomitus along with all of the other new releases before we run out!