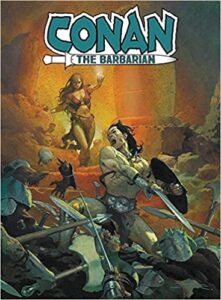 Games are a great way to pass the time when you're stuck at home, but sometimes you need some quiet alone time.  That's when you'll want to reach for some quality reading material.  Luckily, your local Dragon's Lair Comics and Fantasy® has a large collection of trade paperbacks.
What are trade paperbacks? These are the larger collections of comics, sometimes called graphic novels. Instead of a mere 20 pages of comic goodness, trade paperbacks (and the often larger hardback collections) can span hundreds of pages, giving you even more hours of reading entertainment. Here are a few noteworthy collections you might want to check out:
The Life and Death of Conan Parts 1 & 2
Marvel was where Conan debuted in comics, and after being over at Dark Horse for nearly 15 years, Cimmeria's most famous son is back at Marvel. The Life and Death of Conan was the flagship series for Conan since his return. It hops about through Conan's life, each story (to lesser and greater extents) threaded by a prophecy of death that dogs the barbarian's heels. If you pick up #1, you may just want to bite the bullet and get #2 as well, as #1 ends on a wicked cliffhanger.
Finder: Third World
Carla Speed McNeil's Finder series is unique in the world of sequential art. The world of Finder is a post post-apocalyptic land where the human family has splintered into numerous cultural groups, each tailored to survive through their individual experiences, thrived, and then come back into contact with each other. Some tales are family drama, some are murder mysteries, many have coming-of-age elements, but all, at the heart, are about cultures rubbing up against one another, misunderstanding one another, and experiencing moments of revelation as their definition of human is suddenly forced to expand. Dark Horse has released a number of different collections of the Finder stories, and they're all worth tracking down. Third World brings her best-known protagonist, Jaeger, back to the forefront. He's always been a man apart, a free spirit wandering from place to place, but a job that seems tailor-made for his talents might just challenge all of that.
The Metabarons
The Metabaron was, originally, a supporting character introduced in Moebius' famous sci-fi story The Incal. Who the warrior was and where he came from were expanded upon by writer Alejandro Jodorowsky (yes, that Jodorowsky) and Juan Giménez. The only reason Giménez' art looks like anything else you've seen in comics is due to how many have attempted to copy his style. The multi-generational story of the Metabarons, a family devoted to victory at all costs, combines trippy sci-fi tropes, brutal family drama, and conflicts that are truly epic in scope and scale. If you like your sci-fi to push envelopes and be beautiful to look at, you definitely need to give The Metabarons a look.
Mouse Guard
You'd think a story about anthropomorphic mice attempting to survive the Middle Ages would be the exact opposite of a galaxy-spanning sci-fi series like The Metabarons. However, they share a lot in common, including unique and beautiful art. Mouse Guard has been the passion of David Peterson for over a decade now. In these books, you'll find tales of courage and treachery, brutal and bloody combat, and a community recently liberated from the terrors of a weasel warlord. The Mouse Guard keep the paths between mouse communities safe and open, blazing new trails when necessary and patrolling the borders. Come for the amazingly adorable mouse warriors, stay for the deep and touching stories.
Once & Future
Writer Kieron Gillen and artist Dan Mora serve up a shocking tale of magic and political turmoil in England. When Museum Curator Duncan gets a call from the retirement home housing his grandmother, he's not prepared for her to haul him all the way out in the middle of nowhere to open up a secret cache of weapons! And what does a sweet little old grannie need with a cache of weapons? Why, she's coming out of retirement, of course, and getting back into the business of monster hunting. And just in time, as a secret cabal is attempting to resurrect a dark evil from Arthurian legend.
The Courageous Princess             
Kidnapped by a fearsome dragon, Princess Mabelrose takes the matter of her rescue into her own hands. With the aid of a talking porcupine named Spiky and a magical rope Mabelrose refuses to believe is actually alive, she'll need to escape the Unremembered Lands and the dragon's various minions if she's to see home again.
So long as we are able, your local Dragon's Lair Comics and Fantasy® will continue to supply you with the best nerdy goodness we can. Please understand that things are more than a little higgledy-piggledy all over the place. So it might be a good idea to call ahead to find out when your local store is open, what they have in stock, and how you can get it. Stay safe, keep your spirits up and your imaginations strong.